Home » Best Online Pharmacy Technician Programs
Pharmacy Technician Schools Near You Currently Accepting Applicants
Best Online Pharmacy Technician Programs in the Country - 2023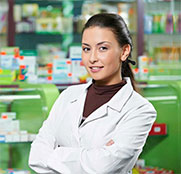 A pharmacy technician dispenses prescription medication to patients at a pharmacy which could be either in a retail or hospital setting. Hospitals, drugstores and retail pharmacies are the major employers of pharmacy technicians. To start working as a pharmacy tech all you need is a high school degree. However, these days most employers prefer to hire pharmacy technicians who have gained the knowledge and skills from a reputed school. Online programs in pharmacy technology with virtual discussion boards, one-on-one tutoring and virtual simulation are offered by reputed colleges and can be the best bet for aspiring pharmacy technicians who are either working part-time, have child-care responsibilities or just find the flexibility offered by online programs more convenient. Completing your pharmacy education via this mode will not only be a cost-effective option but will also help you earn a higher income and elbow out competition in the job market. Online programs in pharmacy technology offer three options to choose from, namely; a certificate, diploma and an associate degree. To start with we have prepared a list of the 9 Best Online Pharmacy Technician schools in the country that are known to make the online mode of teaching effective by using innovative use of technology, thereby ensuring the success of the program. But first let's look at why you should be considering the online option:
Advantages of Pursuing This Course Online
• It will be a cost - effective study option as you will save on commute and hostel costs which can almost double your cost of education.
• You will be able to access lectures and participate in virtual discussions from the comfort of your home. All you will need is a computer and Wi-Fi.
• As almost every online course includes clinical training you will have an advantage of on the job experience and hence not missing out on this significant component of the program.
• Your coursework includes topics such as Pharmacology, Medical Terminology, Pharmacy Law and Ethics and Pharmaceutical Math and Measurements.
• Most online programs prepare their graduates for the nationally recognized PTCB certification exam.
The Ranking Methodology - View Detailed Methodology
• Average Net Price (25%)
• Graduation Rate (20%)
• Percentage of Enrolled Students Taking Online Courses (20%)
• Loan Default Rate (20%)
• Pharmacytechnicianguide.com Rating (15%)
List of the 9 Best Online Pharmacy Technician Programs in the Country for 2023
#1. Ashworth College
A pioneer in distance education, Ashworth College was founded in 1987 and today has 300,00 graduates in the U.S. and across the world. Ashworth offers an affordable pharmacy technician program of four months which you can start anytime. The program prepares its graduates for the PTCB and NHA certification exams in this short period of training. Ashworth provides a hands-on learning experience with its externship partners, CVS and Walgreens. Introduction to Pharmacy, Drug Classification and Pharmaceutical Calculations, Pharmacology, Community and Hospital Pharmacy Practice, Laboratory Simulation and Certification Preparation are the courses taught in this program. On graduating students will be able to perform standard and technical duties required in a pharmacy setting. In a short period Ashworth manages to prepare its pharmacy technician students with job readiness along with a PTCB or NHA certification, all this with the convenience of online study.
#2. Martinsburg College
Started as a brick-motor in 1980, Martinsburg College had its first center in New York. Since 2006, it started with distant learning programs, pioneering technology assisted education. The experience of in-school campus teaching the college, has gained over the years has consistently helped them come up with high quality technology-based education programs. Martinsburg offers a Certificate course where students will learn about core subjects such as pharmacology, medical terminology, pharmacy law and ethics, prescription processing, inventory, insurance billing, communication and customer services skills. Graduates of the program are encouraged to take the PTCB exam. Students can pursue this course at their own convenience from the very comfort of their home, making this course an apt choice for working professionals.
---
---
#3. Rasmussen College
Rasmussen College was founded in 1900 with its headquarters in Bloomington, Minnesota. The college has 24 campuses in 6 states and presently more than 100,00 graduates. The school has an online division which it started in 2002. Rasmussen offers an online Pharmacy Tech Certificate course. It takes 9 months for students to earn their Certificate of completion. Students will gain the necessary knowledge through live interactive sessions with faculty and peers and online simulations to learn technical skills. Rasmussen incorporates the discipline and rigors of on-campus study in their online Certificate program ensuring students get the most successful learning experience.
---
---
#4. Minnesota State Community and Technical College
Minnesota State Community and Technical College is a technical and community college which is offering more than 70 on campus and 25 online programs. The college ranks among the top three two-year colleges in Minnesota in fundraising and awarding more than $200,00 scholarships annually. Minnesota State Community and Technical offers an online, 60 credit Associate Degree and a 36 credit Diploma course in Pharmacy Technology. Students are exposed to a real time lab experience in their state of art lab in Wadena. The program is ASHP accredited. Additionally, graduates of this program, after earning their PTCB certification can also take the Compound Sterile Preparation Exam to demonstrate their knowledge and skill and earn the professional CSPT designation.
---
---
#5. Penn Foster Career School
In 1890 Penn Foster was founded as a school to impart education to coal miners so that they could advance their careers. Later on the college earned the reputation of being known as the International Correspondence Schools.
Penn foster Career School offers a Pharmacy Technician Online Certificate program where students will gain the necessary knowledge and skills to start their career as a pharmacy technician and also successfully take the PTCB certification exam. Students get an opportunity to gain hands on learning experience with an externship at Walgreens and CVS. With mobile friendly courses, goal setting tools and personal coaches to help students succeed, Penn foster leaves no stone unturned to ensure its students reach their academic goals.
---
---
#6. San Francisco State University
Founded in 1899 San Francisco State University located in San Francisco offers a self-paced six months online course in pharmacy technology. The course is known for its interactive learning module and 24/7 instructor support. To provide real life experience to its students this program offers engaging labs, high quality course videos and animated simulations. As part of the course students will need to complete an 80-hour clinical externship at a San Francisco based healthcare provider. During this course students learn about pharmacy calculations, medical terminology, prescription interpretation, 200 top drugs, dosage calculation, dispensing prescriptions, inventory control and billing management. Certification these days is highly preferred by employers so as part of its curriculum this course prepares you to take the PTCB certification exam. To help its students find employment the school offers career services that include guidance and resume writing help through an online student portal.
---
---
#7. Vincennes University
Vincennes University founded in 1801 is a public university with its main campus in Vincennes, Indiana. Vincennes offers a Certificate as well as an Associate Degree in an online mode of study. Both the programs are ASHP accredited and prepare graduates for the PTCB certification exam. While the certificate program takes one year to complete the associate degree takes two years of time. Students are trained to perform pharmacy technician duties such as to prepare medication for clients through mixing, counting pills and labeling bottles, demonstrate proper drug dispensing techniques, and apply math concepts for dosage calculations. With a regular assessment plan to assess the knowledge of students, academic excellence is what the college relentlessly strives for.
---
---
#8. University of Alaska Anchorage
A public research university founded in 1954, University of Alaska Anchorage is located in Anchorage, Alaska. With a student population of 17,000, the college has the largest population of student veterans in the state. It offers a 16-credit occupational endorsement certificate in pharmacy technology which is offered in an online mode. This is a short course which can be completed in just two semesters and emphasizes on core subjects such as Introduction to Pharmacy, Pharmacology, Pharmacology Calculations and Techniques of Pharmacy Practice. Students are given instructions by experienced pharmacy technicians and pharmacists so as to give students a learning curve which covers every aspect of the pharmacy.
---
---
#9. Allen Community College
Allen Community College previously known as Allen County Community College is located in Iola, Kansas. It was established in 1923 and has two campuses; one main in Iola and the other in Burlingame. Today the college enrolls 2500 students, each semester on both of its campuses. Students are provided with a safe and conducive learning environment, where they can transfer college credits to pursue an education at other institutions. Allen Community offers an Associate and Certificate program for those who want to pursue Pharmacy Tech education. Both these courses are available as an online mode of study and prepare students for an exciting career in the pharmaceutical industry. Introduction to Pharmacy Technician, Pharmacology for Pharmacy Technician, Pharmacy Calculations are some of the courses included in the program.
Allen Community takes pride in the fact that 90 percent of its students report their online mode of study is engaging and challenging. It has earned a repute of being an educational center known for the quality of its faculty and academics.
Also Check Out
---
---