Home » Best Pharmacy Schools
Best Pharmacy Schools in the Nation (2020)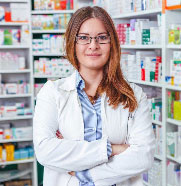 Pharmacists, today play a significant role in the healthcare industry. Their contribution goes beyond a pharmacy as they take up more challenging roles such as research and drug discovery. As of 2018, there are 309,550 pharmacists working in the country earning an annual average salary of $123,670. To be a successful pharmacist it is absolutely vital to gain top notch knowledge and skills from a preeminent educational institution. However, with quite a few schools across the country offering pharmacy programs, it can get daunting to make the right choice. To get you started, we have curated a list of the 25 Best Pharm.D. Programs offered by some of the leading pharmacy schools in the country. Read on to know more about the ranked schools, the Pharm.D. programs offered by them and the factors we have taken into account for the ranking methodology.
Table Of Contents
How Many Schools Were Evaluated?
| | |
| --- | --- |
| Programs Evaluated | 130 |
| Programs Ranked | 25 |
Factors taken into Account for our Pharmacy Schools Ranking
| | |
| --- | --- |
| Criteria | Weightage |
| Past 4 Years NAPLEX Pass Rates 2015 = 10%, 2016 = 20%, 2017 = 30%, and 2018 = 40% | 60% |
| Research Activity | 15% |
| Graduation Rate | 10% |
| Student-to-Faculty Ratio and Faculty Credentials | 10% |
| Pharmacytechnicianguide.com Rating | 5% |
To give you the most reliable list of the best pharmacy schools we have closely evaluated 130 ACPE accredited Pharmacy schools across the country for various factors that indicate the quality of education and student friendly services offered by the schools. Our data comes from NAPLEX First-Time Pass Rates, National Center for Education Statistics and school websites. Besides, our team has also considered the rankings by the US News to come up with our list of best pharmacy schools. The following are the factors that were taken into account for the ranking methodology:
1) Past 4 Years NAPLEX Pass Rates (60%)
The NAPLEX pass rates of the last 4 years were taken into account in such a manner that 10% credence was given to the year 2015, 20% to 2016, 30% to 2017 and 40% to the most recent year of 2018 . This factor has constituted 60% of weightage in our ranking. To make it to our list, the school should have a minimum of 200 students from 2015 to 2018, who have attempted the NAPLEX exam for the first time.Passing the NAPLEX is crucial to a pharmacy student to obtain a licensure to practice pharmacy. The pass rates of a college indicate the quality and success of the pharmacy program.
2) Research Activity (15%)
A school's participation in research and scholarly activities constitute 15% of our ranking methodology. Schools engaging in research and drug discovery provide the perfect environment that helps pharmacy students improve critical thinking skills, build a foundation of research knowledge and experience, increase collaboration and teamwork skills, develop time and research project management skills and increase opportunities to interact with mentors and experts and learn from their expertise. Above all, scholarly activities increase the marketability of the pharmacy school and also of everyone associated with it.
3) Graduation Rate (10%)
The graduation rate is important to determine the success of a college in helping students to attain their academic goals. Schools with a higher graduation rate indicate a significant number of students graduating from the program within the stipulated time frame. The graduation rate of a college constitutes 10% of our ranking methodology.
4) Student-to-Faculty Ratio and Faculty Credentials (10%)
Student-to-faculty ratio and faculty credentials constitute 10% of our ranking. Out of this 10 percent, 60% credence was given to the student-to-faculty ratio and the remaining 40% was given to the faculty's credentials and qualifications. Schools that have a low student-to-faulty ratio can give individualized attention to their students. The qualifications and credentials of the professors are imperative when it comes to mentoring pharmacy aspirants. The expertise that a professor brings forth to his class helps create an engaging learning experience, thereby ensuring a positive teaching outcome.
5) Pharmacytechnicianguide.com Rating (5%)
Apart from all the factors mentioned above, we have looked into student reviews and rankings the pharmacy school has earned over the past one year. Additionally, each school was evaluated for the extra-curricular activities, student organizations, school policies, where along with professional growth, personal growth of a student is ensured. Collaborative partnerships of the school, location of its campus are some of the other factors which were looked into. Our team's rating at Pharmacytechnicianguide.com, considering these factors constitutes 5% of our ranking methodology.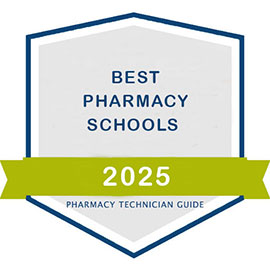 DOWNLOAD BADGE
Quick Look at 25 Best Pharmacy Schools - 2020
Rank
School Name
Location
School Type
Enrollment
Program Length
NAPLEX Performance
Program Info
Male
Female
2015
2016
2017
2018
1
University of Southern California
Los Angeles, CA
Private
254
499
4 Years
99.40%
96.40%
95.90%
96.50%
View
2
University of Wisconsin Madison
Madison, WI
Public
233
329
4 Years
96.20%
94.60%
99.20%
98.30%
View
3
South Dakota State University
Brookings, SD
Public
104
212
6 Years
100.00%
98.70%
98.60%
100.00%
View
4
University of Kentucky
Lexington, KY
Public
210
333
4 Years
94.50%
95.20%
97.80%
97.60%
View
5
Butler University
Indianapolis, IN
Private
165
311
6 Years
99.20%
93.10%
97.40%
99.20%
View
6
University of Texas at Austin
Austin, TX
Public
161
328
4 Years
96.60%
96.50%
95.20%
97.30%
View
7
University of North Carolina
Chapel Hill & Asheville, NC
Public
189
415
4 Years
96.10%
95.20%
92.00%
95.50%
View
8
University of Minnesota
Duluth and Twin Cities, MN
Public
245
426
4 Years
95.20%
90.70%
97.50%
95.10%
View
9
Ohio State University
Columbus, OH
Public
222
300
4 Years
97.50%
94.80%
94.10%
95.60%
View
10
Virginia Commonwealth University
Richmond, VA
Public
N/A
N/A
4 Years
96.80%
89.70%
96.10%
98.40%
View
11
University of Tennessee
Memphis, Knoxville & Nashville, TN
Public
272
431
4 Years
97.10%
95.30%
95.50%
95.40%
View
12
University of Houston
Houston, TX
Public
179
317
4 Years
98.10%
94.70%
99.00%
97.40%
View
13
Temple University
Philadelphia, PA
Public
239
306
4 Years
94.80%
94.50%
96.20%
89.70%
View
14
University of Florida
Gainesville, Jacksonville & Orlando, FL
Public
424
626
4 Years
94.50%
94.30%
89.20%
91.90%
View
15
University of California, San Diego
La Jolla, CA
Public
78
170
4 Years
98.10%
94.60%
100.00%
98.40%
View
16
University of Washington
Seattle, WA
Public
138
260
4 Years
98.70%
98.90%
95.50%
98.80%
View
17
Drake University
Des Moines, IA
Private
188
381
4 Years
94.80%
93.30%
97.20%
93.10%
View
18
University of the Pacific
Stockton, CA
Private
255
384
3 Years
96.40%
92.50%
93.70%
95.80%
View
19
Rutgers University
New Brunswick, NJ
Public
458
812
6 Years
96.10%
93.40%
94.40%
90.00%
View
20
University of California San Francisco
San Francisco, CA
Public
144
344
3 Years
99.20%
96.40%
98.10%
91.10%
View
21
University of Pittsburgh
Pittsburgh, PA
Public
157
300
4 Years
100.00%
91.60%
92.30%
93.60%
View
22
Purdue University
West Lafayette, IN
Public
202
401
4 Years
93.60%
89.90%
93.60%
85.70%
View
23
Creighton University
Omaha, NE
Private
202
410
4 Years
97.60%
89.90%
94.60%
91.10%
View
24
Ohio Northern University
Ada, OH
Private
313
577
6 Years
95.90%
92.00%
93.30%
92.20%
View
25
University of Iowa
Iowa City, IA
Public
155
275
4 Years
95.30%
94.30%
96.10%
89.40%
View
In-Depth Review of 25 Best Pharmacy Schools - 2020
Useful Resources
Academy of Managed Care Pharmacy
The Academy of Managed Care Pharmacy is a national professional organization established to empower its members to serve the society by using proper medication principles and strategies, to improve the health outcomes. Its members include pharmacists, physicians, nurses and practitioners. As a pharmacist, being a member of the association will give you access to its many professional initiatives such as live national conferences and online learning programs.
Accreditation Council for Pharmacy Education
Accreditation Council for Pharmacy Education is a non-profit national accrediting agency that accredits schools offering PharmD degrees and continuing education programs. It is recognized by the Council on Higher Education Accreditation and the US Department of Education. You can find useful information regarding the PharmD program in terms of curriculum and guidance for the educational outcomes.
American Association of Colleges of Pharmacy
The American Association of Colleges of Pharmacy has been around since 1900, promoting the profession of pharmacy and the value of pharmacy education. The association comprises of all accredited schools and colleges offering pharmacy programs. Faculty and students pursuing pharmacy and enrolled in professional programs also form part of this association. Being a member, you will benefit from member services including meetings and events, webinars, continuing education and directories for faculty and speakers

American College of Clinical Pharmacy
American College of Clinical Pharmacy is a professional society that headquarters in KS and has pharmacists, educators, scientists and students from more than 60 countries as its members. As a member you will gain learning resources and advocacy, thereby enabling you to achieve excellence in your practice, research and education.

American Pharmacists Association
The American Pharmacist Association is the first professional association for pharmacy professionals in the U.S., established in 1852. Its members constitute pharmacists, pharmaceutical scientists, student pharmacists, pharmacy technicians and others associated with field of pharmacy. A membership will provide you with continuing education, useful information, advocacy and networking opportunities so that you can grow professionally.

American Society of Consultant Pharmacists
American Society of Consultant Pharmacists is an international non-profit society based in VA to promote the cause of pharmacy professionals. A membership can give you host of benefits such as resourceful professional journals, access to the consultant pharmacist and advocacy at your fingertips. Additionally, lifelong learning where you get to attend free webinars and live meetings at discounted rates and online education are some of the other takeaways. What's more, as a member you also get discounts on hotels, travel and products.
American Society of Health-System Pharmacists
The American Society of Health-System Pharmacists is a professional organization having 45,000 members that include pharmacists, student pharmacists and pharmacy technicians. It's been around for 75 years and endeavors to provide its members with useful learning resources and advocacy rights.
American Society for Pharmacy Law
The American Society for Pharmacy Law is a non-profit organization of attorneys, pharmacists and students of pharmacy who want to know about law as it applies to pharmacies and pharmacy professionals. As a member you will get monthly reviews of major jurisprudence, legislation and regulation regarding pharmacy law. You will also get access to an on-line directory and discounted rates for annual events.
College of Psychiatric and Neurologic Pharmacists
The College of Psychiatric and Neurologic Pharmacists is the only such organization in the nation to promote the cause of neuropsychiatric pharmacists in the U.S. As a member of the association, you will gain targeted skills in psychiatric and neurologic pharmacy, receive updates on legislative issues, online access to Mental Health Clinician bulletin, featuring news and profession related articles. You will also get access to an email list exclusively for members and be able to view and post job opportunities.
FAFSA
FAFSA provides grants, work-study funds and loans for college, career school or graduate school education. To apply for the loan, you are required to fill and submit the FAFSA form.

BLS
The BLS provides accurate salary information for pharmacists across the nation. Job outlook, salaries across various work environments and states can be easily sourced from the BLS site.
Also Check Out