Best Pharmacy Schools in the Nation - 2022
To pursue your Pharm. D, the choice of school you make will significantly influence your pharmacy career. Get in-detail information about the Pharm. D. programs, NAPLEX pass rates, tuition costs offered by the Best Pharmacy Schools in the Nation and then make a well-informed choice.
Find Pharmacy Schools in your State



Our 2022 Pharmacy Tech National Rankings
Welcome to the Pharmacist Section @ Pharmacytechnicianguide.com
Thank you for visiting the Pharmacist section of our website. We have tried to include the most relevant and precise information about a pharmacist's education and career. We hope going through this section will be helpful to your pharmacy career.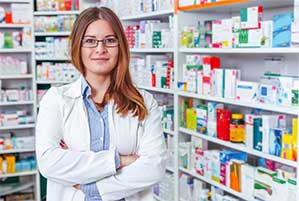 A pharmacist career is challenging and entails a long duration of study. The salary a pharmacist earns is higher than many health careers. If being in a profession where helping patients towards wellness while you make a six-figure paycheck motivates you, then you must read on to know about pursuing a career in pharmacy.
A career in pharmacy starts with pursuing a Pharm. D program either from one of the top pharmacy schools in the nation or a school in your state. Learn about the top pharmacy schools, the Pharm. D program offered by them, tuition costs and make a well-informed choice. Additionally, find information about pharmacist continuing education requirements, pharmacy state boards and pharmacist organizations and associations, pharmacist salary, nationally and statewide in this comprehensive pharmacist education and career section.
How Much will I Earn as a Pharmacist?
Well, how much you earn as a pharmacist depends on various factors such as educational background, location of work, type of employer and years of work experience. On an average a pharmacist in the U.S. earns $125,510-annually, $60.34-hourly and $10,460-monthly. Again, salaries will vary from state to state. To know pharmacist salaries and employment outlook specific to your state, go to your state link from the pharmacist salary page
5 Factors to Consider Before Choosing a Pharmacy School
With 130 pharmacy schools across the nation, choosing a school that falls in line with your career goals can be a challenge. However, if you keep certain factors in mind, deciding on the right school can get less daunting. We have listed 5 key pointers that can help you evaluate potential schools before you finally decide to enroll.
1. Accreditation
You must check whether the school is ACPE accredited. Pharmacy schools that are ACPE accredited are required to maintain the standard of their Pharm. D. programs as prescribed by the ACPE. You are thereby assured of receiving quality education.
2. School's academic reputation
You must do a bit of research to find out whether the education offered by the school is relevant and dynamic. Learn about its NAPLEX Pass rates, curriculum offered, and graduation and placement rates.
3. Research activity it offers
Factoring a school's participation in research and scholarly activity will go a long way in assessing its academic environment and how conducive and engaging it is. A school buzzing with research activity promotes critical thinking skills and helps build a foundation of research knowledge and experience.
4. Location
The location of the school influences your decision to quite an extent. The choice of your college will depend on whether you want to study closer to home or do not mind studying far away from home.
5. Cost
The cost of study in a pharmacy school will be one of the important factors, influencing your choice. Additionally, you must consider your in-state or out-of-state status, and availability of financial aid when making the final choice.
Pharmacist Salary Quick Facts
Salary Range:
$88,400 - $162,900
Starting Salary:
$88,400
Average Annual Salary:
$125,510
Average Hourly Wage:
$60.34
10 Highest Paying States:
California, Alaska, Vermont, Oregon, Maine, Wisconsin, Minnesota, Delaware, New Hampshire & Hawaii
10 High Paying Metros:
Tyler, Vallejo-Fairfield, Santa Maria-Santa Barbara, Madera, San Jose-Sunnyvale-Santa Clara, San Luis Obispo-Paso Robles-Arroyo Grande, Salinas, Bakersfield, McAllen-Edinburg-Mission, & Yuba City
5 High Paying Industries:
Outpatient Care Centers, Offices of Physicians, Pharmaceutical & Medicine Manufacturing, Grocery Stores & Hospitals
Past 5 Years Salary Growth
Information Source: The US Bureau of Labor Statistics (as of May 2019)
Pharmacist Employment Quick Facts
Total Number of Pharmacists Employed:
311,200
Projected Annual Job Openings (New + Replacement):
11,200
Top 10 Retail Employers:
Kaiser Permanente Pharmacy, Giant Eagle Pharmacy, Walgreen's Pharmacy, Publix Pharmacy, Winn-Dixie Pharmacies, Rite Aid Pharmacy, Kmart Pharmacy, CVS Pharmacy, Hy-Vee Pharmacy & Walmart Pharmacy
Employment Growth Past 5 Years
Projected 10-Year Employment Growth
5 Industries with High Employment:
Retail Pharmacies, Hospitals, Grocery Stores, Food and Beverage Stores & Merchant Wholesalers
10 States with High Employment:
California, Texas, New York, Florida, Pennsylvania, Ohio, Illinois, New Jersey, North Carolina & Georgia
Information Source: The US Bureau of Labor Statistics (as of May 2019)
Useful Resources for Pharmacy Students & Professionals on our Site
State Boards of Pharmacy
Your State Board of Pharmacy is where you are required to apply for your licensure and eligibility to take the NAPLEX. We have listed all the Pharmacy State Boards in the country along with contact details. You can use this information to either apply for your licensure or any other regulatory information you might to know.
Pharmacist Organizations and Associations
As a pharmacist maintaining membership in any pharmacy organization or association can give your career a great boost. Apart from networking opportunities, a membership will keep your knowledge and skills relevant and up-to-date. We have listed all the pharmacy organizations and associations where you can contact electronically for a membership.
Continuing Education
As a pharmacist, you are required to fulfill continuing education requirements as prescribed by your state board of pharmacy. This helps you to keep abreast with advances in clinical sciences, thereby ensuring positive health outcomes. Learn about ACPE approved continuing education providers and requirements specific to your state from an extensive list of continuing education providers.
---