Pharmacy Technician Schools Currently Accepting Applicants in New York
Pharmacy Technician Schools and Programs in New York

This is a great time to pursue a career as a pharmacy technician in the state of New York. The market for pharmacy techs is expected to amplify significantly in the coming years. According to the U.S. Department of Labor's BLS, jobs for pharmacy technicians is projected to augment very rapidly in the state of New York, given that it is highly populous and has a large aging populace. The average mean salary for a pharmacy tech in New York is $33,490 annually. NY has around 7 schools that offer programs in Pharmacy Technology, where you can gain training and professional skills. Although not a mandate in the state, it is good idea to enroll in any of the best schools to prepare for a career as a pharmacy technician. We have ranked the Top 4 Pharmacy Technician Schools in New York based on
our methodology
, considering factors such as, student faculty ratio, tuition cost, quality of education and graduating rate. Currently, there are 18,260 employed pharmacy technicians in the state out which 7192 are PTCB certified. Read on, to know more about the top schools, certification requirements and employment prospects for a pharmacy tech in the state of NY.
3 Best Pharmacy Technician Schools in New York for 2022
(Following is a list of schools offering the best pharmacy technician programs in New York)
#1. The College at Brockport, Rochester Educational Opportunity Center - Rochester, NY
Rochester Educational Opportunity Center
(REOC) for over 40 years has been providing quality education to its students through continuous improvement at 10 centers spread all over the New York State. To keep up with the growing demand for pharmacy technicians at community pharmacies, hospital pharmacies, home health care, long term care and mail order settings in the state of New York, REOC offers a 5-month certificate course in Pharmacy Technology. To get admitted into this ASHP accredited program you require a Diploma or HSE, 2 references from profs, social security, attend an interview and must be atleast 18 years of age.
Accreditation: ASHP
Program Type Certificate
Program Length: 5 Months


#2. Manhattan Institute - New York, NY
Manhattan Institute
located in the heart of New York City has been serving students for over 20 years by offering healthcare career programs. Manhattan Institute offers a diploma program in Pharmacy Technology which is a perfect blend of classroom instruction, laboratory training and an externship at a recognized local pharmacy setting. As soon as you graduate with from this program you can start working at a retail, hospital or other pharmacy setting as the state of New York does not require a license or certification.
Program Type Diploma
Program Length: 9 months
---
#3. ASA College - New York, NY
From a very modest beginning in 1985 with one professor and 12 students, today
ASA
boasts of an enrollment of 3000 students. ASA currently offers education in around 20 areas of study which includes healthcare, criminal justice and business at its Manhattan and Brooklyn campuses. For aspiring pharmacy tech students, ASA offers a 60 - week associate degree program in Pharmacy Technology. You will be attending classroom lectures, learn in a laboratory and work for 90 hours each in a hospital and community pharmacy to gain the much-needed experience. The graduates of the program are prepared to successfully pass the PTCB exam. In the Hispanic Outlook in Higher Education issue of 2015, the college had ranked first in 2-year schools, providing health Professional degrees to the Hispanic and Latino community.
Program Type Associate's degree in Pharmacy Technology
Program Length:60 Weeks
---
Monroe College - Bronx, New Rochelle & Queens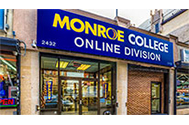 Established in 1933, Monroe College offers career focused quality education at its Bronx, New Rochelle and Queens campuses. The college has been ranked the most affordable private college in the New York by US News. Monroe receives 90% positive faculty reviews and to cater to the growing demand for pharmacy techs in the state of New York offers an associate degree program in Pharmacy Technology. As part of the program you will learn about pharmacology, record keeping, pharmacy law and prescription filling. A fully functional pharmacy tech lab further adds to the educational experience by providing hands-on learning. The Human Services Club at Monroe's creates meaningful openings for projects and career opportunities by bringing together the college community and Human services organizations in the city. Upon completion of the program you will be able to work under a licensed pharmacist at a pharmacy in retail/hospital or other healthcare organizations.
Program Type Associate Degree
Program Length:18-24 Months
---
Access Careers - Hempstead & Islandia
Access Careers offers a short training course which prepares students with all the necessary knowledge and skills to fulfill the duties of a pharmacy technician. It is a weekend program, with class timings from 10 am to 4.30 pm. On completion of the program, students are encouraged to sit for the CPht exam, administered by the ExCPT (Exam for the Certification of Pharmacy Technicians). Access Careers has a partnership agreement with Walgreens wherein students of Access after passing the certification exam can directly apply for internship positions.



What are the Requirements to Work as a Pharmacy Technician in New York?
New York does not mandate registration to work as a pharmacy technician. The New York Division of Professional Licensing Services does not regulate pharmacy techs; hence there are no requirements in the state of NY to work as a pharmacy tech.
Registration/Licensure
No
Training
No
Certification
No
Pharmacy Technician to Pharmacist ratio
1/2 to 1
Continuing Education
No
Certification Maintenance
No
(source: ptcb.org)
Education
Step 1: You need a high school diploma or a GED;
In NY, the emphasis is laid on on-the-job training which you will receive from pharmacist whom you assist. The pharmacist is in charge of administering the training program, and commonly, he will employ the National Pharmacy Technician Training Program recognized by the Office of Professions-Pharmacy. Certification, as well as continued education is accordingly recognized, but not essentially necessary. Nonetheless, the efforts you make for academic achievements boost your chances at a job.
Step 2: You should have one of these (not mandatory):
Complete a pharmacy technician diploma program OR Earn an associate degree in Pharmacy Technology
Also, most pharmacy techs get trained on the job in New York. Employers favour candidates having previous experience, knowledge of managing inventories and using computers.
Certification: Certification is not required for a Pharmacy Techncian to practice in New York. On the other hand, there are a few establishments which necessitate certification for pharmacy technicians in their employment.
Also, aspirants who do get certified will get hired faster as well as earn more money. The PTCB certification is approved by the state board.
Licensure: Pharmacy technicians in New York do not require a license to practice



Choosing the Right Pharmacy Technician School in New York
With numerous colleges in NY offering Pharmacy Technician programs, you need to explore certain aspects of the program and make a well-versed decision:
Accreditation: Make sure that you go to a school which is qualified by the American Society of Health-System Pharmacists (ASHP). Programs credited by the ASHP meet the recommended necessities as considered by the national certifying board of PTCB.
Type of Program: The pharmacy technician training program trains you to assist the pharmacist at all levels; schools offer an associate degree program of two years or a certificate/diploma program of 10 months.
Financial Aid: Applying for a grant or loan for financial help can be rather overwhelming. The starting point for all financial aid is an application for a federal PIN number which can be done online via the Department of Education website. The PIN number is required to fill the FAFSA (Free Application of Free Student Aid) form. The school then decides your financial assistance eligibility.



Admission Requirements For Pharmacy Technician Schools in New York
In NY, schooling for pharmacy tech isn't really stressed upon; the importance is laid on on-the-job training. Certification is not fundamentally needed. Nevertheless, the attempts that you make for educational qualifications will significantly pep up your chances at a job. Employers tend to favor candidates having training and certification. Thus, you could opt from an array of schools and colleges in NY. Let's look into the admission requirements of the Manhattan Institute:
• You could enroll by phone or fill up an online registration form.
• High school diploma or GED
• In case you do not have a high school diploma or GED, you can take the entrance test.
• You need to submit a government issued photo ID



Average Salary of a Pharmacy Technician in New York
Popular companies recruiting pharmacy technicians in New York are - CVC, Independent Pharmacy, New York-Presbyterian Hospital, Lenox Hill Hospital and Arnot Ogden Medical Center.
The average salary for a Pharmacy tech in New York is $33,490 annually. The requirement for pharmacy techs is estimated to magnify appreciably in the next couple of years and jobs are projected to augment very rapidly in the state of New York. They have stated that there will be a 12.68% job growth between 2016- 2026, faster than average for all occupations.
Pharmacy Technicians Currently Working in NY
10 Year Job Growth
Annual Vacancies
Average Starting Salary
Average Annual Salary
2018
2028
% Growth
18,970
19,590
20,810
6.23%
1,750
$25,900
$37,100
Pharmacy Technician Related Organizations in New York
NYS Pharmacy: NYS Pharmacy is the New York Board of Pharmacy where pharmacists apply for their license. As a pharmacy technician, however there are no licensure requirements in NY.
New York State Council of Health-System Pharmacists: New York State Council of Health-System Pharmacists is a 2000 strong member organization promoting the cause of pharmacy professionals by providing continuing education program, educational courses where you can learn and network with other fellow pharmacyprofessionals. As a member you will receiver discount on the fees of the various educational events conducted by the organization.
Pharmacists Association of Western New York: Pharmacists Association of Western New York is an organization incorporated to advocate support, and provide continuing educational programs, wherein pharmacy professionals can upgrade their skills as well as seek assistance during their course of pharmaceutical practice.



More Pharmacy Technician Programs
| | | | |
| --- | --- | --- | --- |
| School Name | Location | Type | Visit Website |
| Alliance Computing Solutions | Flushing | Private for-profit | Visit |
| CUNY Bronx Community College | Bronx | Public | Visit |
| Manhattan Institute | New York | Private for-profit | Visit |
| Onondaga Cortland Madison BOCES | Liverpool | Public | Visit |

Nearby States

Related Articles