Pharmacy Technician Schools Currently Accepting Applicants in Indiana
Pharmacy Technician Schools and Programs in Indiana

Healthcare jobs are well dispersed throughout Indiana. A majority of the pharmacy technician jobs are in the Central part of the state, with Indianapolis accounting for a maximum in the sector. Employment in Indiana's hospitals and out-patient medical centers has ballooned by more than 12.9% over the last decade. An escalation in the aging baby-boom populace increases the demand for drugs and medical services; consequently pharmacists hire more assistants to help them. The average annual salary of a pharmacy technician is $30,710. Indiana has 8 schools offering pharmacy technician training programs. With a limited choice in terms of pharmacy technician education, to give you the best options, we have evaluated these 8 schools and come up with a list of the Top 3 pharmacy technician schools in Indiana. The schools have been ranked based on
our methodology
which takes into account factors like tuition cost, student faculty ratio and graduation rate.
3 Best ASHP Accredited Pharmacy Technician Schools in Indiana for 2022
(Following is a list of schools offering the best pharmacy technician programs in Indiana)
#1. Ross Medical Center - Fort Wayne, Indiana
Ross Medical Education Center
is a an allied health school with 35 locations across seven states offering both campus and online programs. Since its inception in 1976, Ross has been instrumental in providing top notch healthcare training in 8 states. With 6 campuses in Indiana the Pharmacy Technician program is offered at their Evansville, Fort Wayne, Granger and Muncie campus. The Fort Wayne campus has made it to our ranking list. A Diploma of 36 weeks is offered where experienced instructors cover topics including, pharmacy law and ethics, microbiology, pharmaceutical and medical terminology, dosages and generic manes of drugs. On completion of this program you will be able to work as an entry level pharmacy technician at various pharmacy settings.
Accreditation: ASHP
Program Length: 36 weeks


#2. Vincennes University - Vincennes University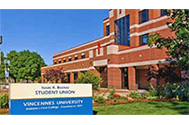 Vincennes University is a public university with its main campus in Vincennes, Indiana. Vincennes is the oldest public institution of higher learning in the Northwest Territory and in Indiana. The college offers a Certificate and an Associate Degree in Pharmacy Technology. The program which is designed to prepare students to work as entry level pharmacy technicians is available on-campus as well as an online option. You will learn to prepare prescription medicines and sterile intravenous meds, maintain stock and inventory, collect quality improvement data and prepare insurance forms.
Accreditation: ASHP
Program Length: 9 months for certificate and 2 years for the Associate Degree
---
#3. Indiana University Health - Indianapolis, Indiana
Indiana University of Health
is the largest healthcare system in the state of Indiana. Indiana University of Health offers a 9-month pharmacy technology training programs starting in September of each year. The program has been accredited by ASHP since 1999. Students of this program are trained to become job ready and successfully pass the PTCB certification exam. Since May 2012 the program boasts of a 95% pass rate. Graduates of this program typically earn $13.41 per hour - $16.10 hourly.
Accreditation: ASHP
Program Length: 9 months
---
American National University - South Bend
American National University provides two flexible pharmacy technician training programs in Indiana at its campus in South Bend with the flexibility of day and evening classes. The college currently offers a diploma program and an associate's degree in pharmacy technology. Coursework include core subjects such as pharmacology, pharmacy systems of operations, dosage & calculations of medications and pharmacy practice and medical terminology. Upon completion you will be ready to start working as a pharmacy technician under the direct supervision of a pharmacist at a retail or hospital pharmacy.



Programs Currently on Hold or Discontinued
Brightwood College - Hammond
To help in your quest to become a pharmacy technician Brightwood College offers a 36-week training program in at its Hammond campus in Indiana. The college offers both day and night classes which offer flexibility if you are working or have family responsibilities. During this program you will gain the knowledge and skills required to dispense medications, sterilize equipment, file insurance claims and handle prescription refills. Upon completion you can seek employment in retail pharmacies, hospitals and mail-order pharmacies.



What are the Requirements to Work as a Pharmacy Technician in Indiana?
Indiana mandates registration with the Indiana Board of Pharmacy in order to work as a pharmacy technician. It is also essential that you acquire training from one of the schools that is recognized by the Board of Pharmacy. In case you haven't completed the training, or passed the national exam, you can apply for the Technician-in-Training Permit. You also need to pass the PTCB exam in order to apply for your license.
Registration/Licensure
Yes
Training
Yes
Certification
No
Pharmacy Technician to Pharmacist Ratio
4 to 1
Continuing Education
No
Certification Maintenance
No
(source: ptcb.org)
Education
It is mandatory for you to complete a board accredited training program before you receive your license. The following are the educational requirements to work as a pharmacy tech in Indiana.
Step 1: Attain a high school diploma or a GED.
Step 2: Fulfill one of the following requisites:
Complete a pharmacy technician diploma program OR Earn an associate degree in pharmacy technology
Certification: Indiana mandates that you be certified to work as a pharmacy technician. You need to pass the PTCB exam to earn your certification.
Licensure: You need to have a license to practice as a pharmacy tech in Indiana. Licensure pre-requisites include:
• You should be 18 years or older
• Possess a high school diploma or GED
• Shouldn't have any felony convictions related to controlled substances
• Complete a board recognized training program
Every even numbered year, the license will expire on the 30th of June. The renewal fee is $25.



Employment Opportunities
TotalMed Staffing, Saint Joseph Health System, St. Joseph Regional Medical Center, CSI companies, Reid Hospital and Healthcare Services, Wellfount Pharmacy, CustomMed Apothecary, Omnicare, Walgreens, and Walmart offer pharmacy technicians employment in Indiana.



Average Salary of a Pharmacy Technician in Indiana
The job outlook for pharmacy technicians is definitely excellent; the average annual salary of a pharmacy tech is $30,710. With Indiana having a population of 6.6 million, the state had 10,170 employed pharmacy technicians in 2016. This number has been approximated to increase to 9,970 by 2026.
Pharmacy Technicians Currently Working in IN
10 Year Job Growth
Annual Vacancies
Average Starting Salary
Average Annual Salary
2018
2028
% Growth
9,790
9,290
9,850
6.03%
830
$25,260
$34,200
More Pharmacy Technician Programs
| | | | |
| --- | --- | --- | --- |
| School Name | Location | Type | Visit Website |
| Cabarrus College of Health Sciences | Concord | Private not-for-profit | Visit |
| Ivy Tech Community College | Indianapolis | Public | Visit |

Nearby States

Related Articles