Home » Indiana
Pharmacy Schools in Indiana - 2023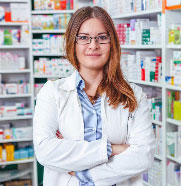 Indiana has a steady demand for pharmacists to support its healthcare sector. Although the average salary a pharmacist draws compared to the national average is not that high, it does not seem dismal when we consider the low cost of living in the state. In 2021 there were approximately 5,830 pharmacists working in the state drawing an average annual salary of $119,020. To become a pharmacist you must complete a Pharm. D. program from any of the ACPE accredited pharmacy schools in Indiana. With limited study options in the state, to help you make the right choice, we have ranked the schools based on their NAPLEX performance.
Our Ranking Methodology
The performance on the NAPLEX is a significant indication of a school's academic success. The exam is crucial in an aspiring pharmacist's educational journey as it tests competence to practice as a pharmacist. A school with an outstanding performance on the exam goes to show its high quality of education and faculty. Taking this into consideration, we have ranked schools based on the NAPLEX performance over last four years, giving 40% weightage given to 2021, 30% to 2020, 20% to 2019 and 10% to 2018..
| | |
| --- | --- |
| NAPLEX Pass Rate Year | Weightage |
| 2018 | 10% |
| 2019 | 20% |
| 2020 | 30% |
| 2021 | 40% |
2023 Ranking of ACPE Accredited Pharmacy Schools in Indiana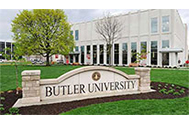 Ranking Score: 95.62%
Location: Indianapolis
Accreditation: ACPE
About the College: College of Pharmacy & Health Sciences (COPHS) at Butler University provides extensive clinical practices and pharmaceutical research facilities to students pursuing BS in health sciences, MS in pharmaceutical sciences, PharmD, or Master of Physician Assistant Studies. The college provides free medication and counseling services on non-drug therapies and precautionary knowledge through its students-operated pharmacy. COPHS also offers a medical Spanish track for pharmacy students to help the Hispanic community with quality care.
Program Details: COPHS offers a four-year Doctor of Pharmacy degree program that prepares students with interactive classrooms sessions, and extensive introductory and advanced level clinical practices in pharmacy settings. The 10-month experiential rotations during the fourth or final year provides the much-needed real-world experience. This program can also be opted with an emphasis on pharmaceutical sciences research, patience care research, or medical Spanish tracks; enabling students to focus on specific area of studies.
Butler University NAPLEX Performance
Year
# of Students Attempted
Pass Rate
2018
126
99.21%
2019
99
95.00%
2020
100
93.00%
2021
91
97.00%
---
---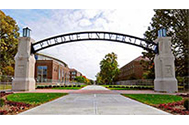 Ranking Score: 89.17%
Location: West Lafayette
Accreditation: ACPE
About the College: Serving students for the last 125 years, Purdue University has a proven record of churning out pharmacy leaders through extensive world-class training at its renowned pharmacy college in IN. World-class research facilities, active industry involvement, qualified faculty and acclaimed curricula, are some of the key reasons to consider this college.
Program Details: The 4-year Pharm.D program at Purdue frequently ranks as one of the top ten pharmacy programs in the nation, supported by integrated learning solutions, intensive classroom studies, hands-on lab training, and 10-month clinical rotations in various practice settings. Admission to this program is subject to successful completion of the 2-year Pharmacy Program at Purdue or equivalent coursework at any other accredited college; however, if you pursue condensed pre-pharmacy program at Purdue, then you can save up to 2 years of your course study time and most likely join the workforce two years faster compared to students from other pharmacy colleges.
Purdue University NAPLEX Performance
Year
# of Students Attempted
Pass Rate
2018
133
85.71%
2019
138
95.00%
2020
140
92.00%
2021
131
85.00%
---
---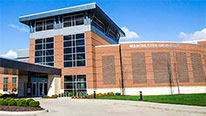 Ranking Score:
81.67%
Location: North Manchester
Accreditation: ACPE
About the College: Offering over 25 programs, the College of Pharmacy, Natural & Health Sciences, at Manchester University (MU) is well-known for maintaining world-class pharmacy training standards and providing interactive classrooms, research areas, and highly educated faculty to prepare students for a rewarding career in the medical field. With small classroom sizes, Manchester ensures personalized learning experience for its students.
Program Details: MU College of Pharmacy offers a 4-year Pharm.D Program in IN, which is the nation's first pharmacy program to win the American association of college of pharmacy award for its remarkable contribution and commitment to diversified learning solutions. Coursework includes drug therapy, medication management and other core pharmacy courses. The experiential learning includes IPPEs and APPEs in a variety of streamlined practice settings.
Manchester University NAPLEX Performance
Year
# of Students Attempted
Pass Rate
2018
66
69.70%
2019
63
87.00%
2020
60
87.00%
2021
60
78.00%
Licensure - Passing the NAPLEX and MPJE in Indiana
To become a licensed pharmacist in Indiana you must apply to the state licensing agency. You must then go ahead and apply for the NAPLEX and MPJE. Later, on passing these two exams you will earn your pharmacist licensure.
Indiana Pharm.D. Graduates NAPLEX Performance (2018-2021)
The overall performance of Indiana's pharmacy students taking the NAPLEX over the last four years has been an above average aggregate of 89.81%. Students from Butler University have done exceedingly well in these four years, what with a 93.00% in 2020 and a 97.00% in the recent year of 2021. Manchester University on the other hand has 87.00% in 2020 and a 78.00% in the recent year 2020. below average pass rates for the last two years. The state has witnessed the number of students taking the exam considerably go up since 2016, conversely, however performance has grown up in the last year down.
School
Location
2018
2019
2020
2021
#Taken
Pass %
#Taken
Pass %
#Taken
Pass %
#Taken
Pass %
Butler University
Indianapolis
126
99.21%
99
95.00%
100
93.00%
91
97.00%
Purdue University
West Lafayette
133
85.71%
138
95.00%
140
92.00%
131
85.00%
Manchester University
North Manchester
66
69.70%
63
87.00%
60
87.00%
60
78.00%
Overall Indiana NAPLEX Performance
325
84.87%
300
92.33%
300
90.67%
282
86.67%
Pharmacist Salary in Indiana
In Indiana, average salaries are generally lower due to the cheaper cost of living and pharmacist salaries are no different. On an average a pharmacist earns an annual salary of $119,020 which is much lower than the national average of $125,690. You can expect to start with a salary of $48,730 and with experience you can go on to earn as high an annual wage as $1,57,840.
Type
Salary
Hourly
$57.22
Monthly
$9,920
Annual
$119,020
Source: U.S. Bureau of Labor Statistics
Pharmacist Job Outlook in Indiana
Indiana will have 240 job openings each year that includes new as well as replacements. In 2020 there were 6,170 pharmacists working in the state and this number is down to 56,050 by 2030 The employment growth rate in the state is lhigh at -1.94% as compared to the national pharmacist employment growth rate of 0.06 in negetive%.
2020 Employment
2030 Employment
Growth
Projected Annual Job Openings (New + Replacement)
Number
Percent
6,170
6,050
-120
-1.94%
220
Source: Career One Stop
Also Check Out
Pharmacy Schools in Other States